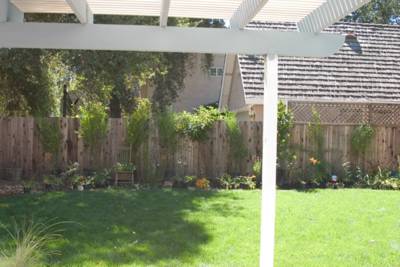 My first big batch of plants was delivered yesterday from POW Nursery. I was glad to have met their minimum for free delivery. As is my way, I selected plants not according to a predetermined list, but by what caught my eye, looked healthy, and by what seemed like a good price.
As long as I stick to the rule of using even numbers of plants for formal, symmetrical arrangements and odd numbers (3+ plants is my usual minimum)for informal plantings, I can have a little fun with what I'm buying.
Another trick for successful "spontaneous landscaping" is to bring flowers from your garden to the nursery so you can see what looks good with what you've already got.
Sure, I make fantasy lists of plants I'd like to own, but on my nursery jaunts the thrill comes from discovering something I hadn't anticipated buying.
This batch of plants included 20 green hopseeds for a possibly temporary eyesore screen (the fence) and privacy screen (neighbors' 2nd story windows) while slower-growing sasanqua camellias (which I haven't found yet) fill in... and out... and up. My other acquisitions were mainly fun perennials (lavender, coreopsis, sedum, penstemon, daylily, echinacea, etc.) and a jasmine vine.
Right now, the plants have been placed but not planted. Placing plants is another fun, somewhat intuitive part of how I garden.
Almost forgot... I also got a saucer magnolia! I looooooooovvvvvve deciduous magnolias and am so happy to finally have one. It's M. x soulangiana, which is a classic. I'm also gonna try squeezing in one more smaller-growing cultivar with darker petals (an M. liliflora cultivar, probably).
Posted by Hello