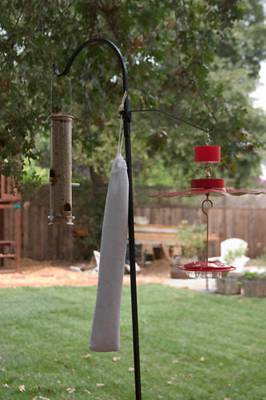 All I have to do now is plant an aesthetically pleasing yet quite edible landscape. ;-)
For now, I'm having fun putting up birdfeeders. Thanks to Cheryl at
Wild Bird Center on Sunrise Blvd.
, I now have the ultimate hummingbird feeder (not too big, not too small, easy to clean, dome cover, ant trap), a really nice seed feeder (with already shelled sunflower seeds), and a refillable niger thistle sock. I can't wait for the birds to discover their new eatery!
Posted by Hello
Clearly, I need more "arms" for my birdfeeder pole. I'm workin' on that...